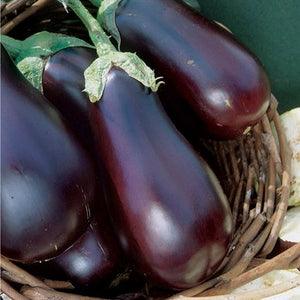 Approximate seed count per packet ( 1.0g = 200 seeds )
Compact dwarf plant that produces big yields of large, glossy, delectable fruit, up to dozen or so fruits per plant and performs well in a variety of climates. The fruit takes a long season to grow but ripened perfect fruits much earlier than other varieties. The ripened fruit is plump and egg-shaped with a rich flavor and a deep purple, so intense it looks black.
Plant height: 18-30 in.
Fruit Size: 4-6 in.
Open Pollinated
Black Beauty Eggplant Planting Information
Approximate Seed Counts

| Seeds per Oz. | Seeds per Lb. |
| --- | --- |
| 6000 | 96000 |
Current Seed Germination Data

| Lot # | Tested | Germination Rate |
| --- | --- | --- |
| J7602 | 2022-12-31 | 90% |